ABOUT KILLIFISH
Killifish are small, colorful, and vibrant freshwater fish known for their captivating patterns and easy adaptability. They are considered excellent additions to community tanks and make fascinating pets for aquarists of all experience levels.
TYPES OF KILLIFISH
There are over 1,000 species of killifish, ranging from the popular and colorful Clown Killifish to the more elusive Nothobranchius species. Some common types include:
Banded Killifish
Splendid Killifish
Striped Killifish
Marsh Killifish
Why is the banded killifish endangered?
The banded killifish is endangered due to habitat loss, pollution, and human interference. Efforts to conserve and protect the species are ongoing to ensure their survival.
HOW BIG DO KILLIFISH GET?
The size of killifish varies by species. On average, they grow to be 1-2 inches in length.
How big does a splendid killifish get?
Splendid killifish can reach up to 2 inches in length, making them a small and manageable species for most aquariums.
HOW LONG DO KILLIFISH LIVE?
Killifish have varying lifespans depending on the species. On average, they live for 1-3 years.
How long do striped killifish live?
Striped killifish have a lifespan of approximately 1-2 years.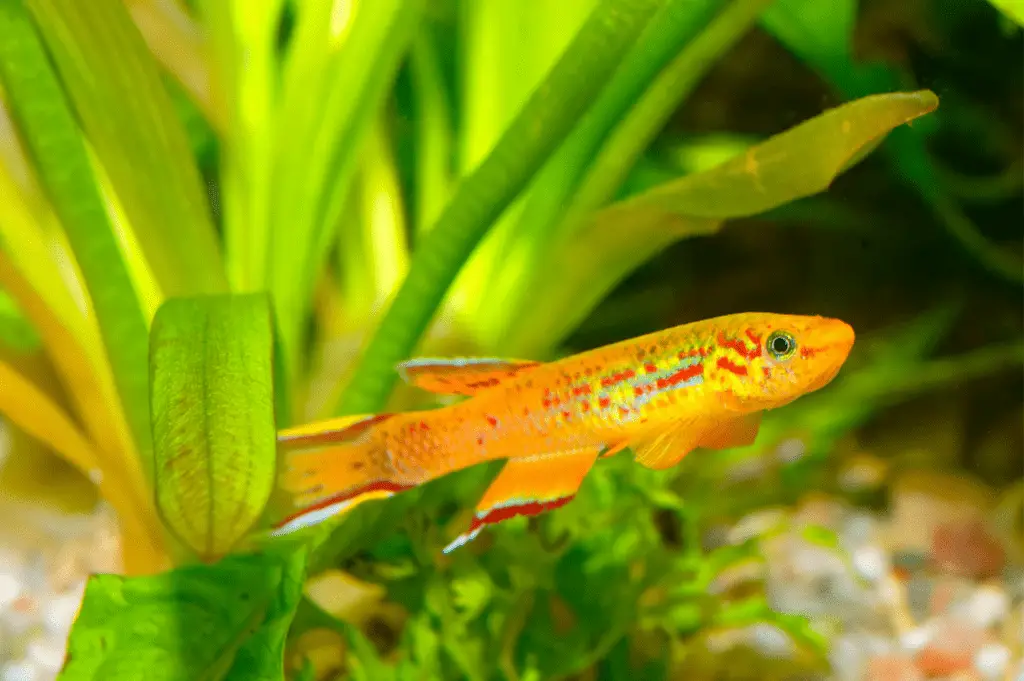 WHAT DO KILLIFISH EAT?
Killifish are omnivorous, feeding on a variety of food sources, including live, frozen, and freeze-dried foods such as:
Brine shrimp
Daphnia
Bloodworms
Tubifex worms
High-quality flake or pellet foods
What do marsh killifish eat?
Marsh killifish have a diet similar to other killifish species, consuming insects, small crustaceans, and plankton.
WHAT TEMPERATURE OF WATER DO KILLIFISH LIVE IN?
Killifish prefer water temperatures between 68-75°F (20-24°C), depending on the species. It is crucial to maintain stable water conditions to ensure their health and well-being.
HOW DO YOU BREED KILLIFISH?
Breeding killifish requires a separate breeding tank with suitable water parameters, plenty of hiding spots, and a spawning medium, such as peat moss or spawning mops.
How can you tell killifish are ready to spawn?
Killifish are ready to spawn when the females become plump with eggs, and the males display vibrant colors and increased activity.
When do killifish spawn?
Killifish spawn continuously throughout the year, often laying eggs every 1-2 days.
How do you hatch killifish eggs?
To hatch killifish eggs, remove the eggs from the spawning medium and place them in a separate container with clean water at the appropriate temperature. The eggs will typically hatch within 10-15 days.
How durable are killifish eggs?
Killifish eggs are quite durable, with some species capable of surviving in a dormant state for several months before hatching.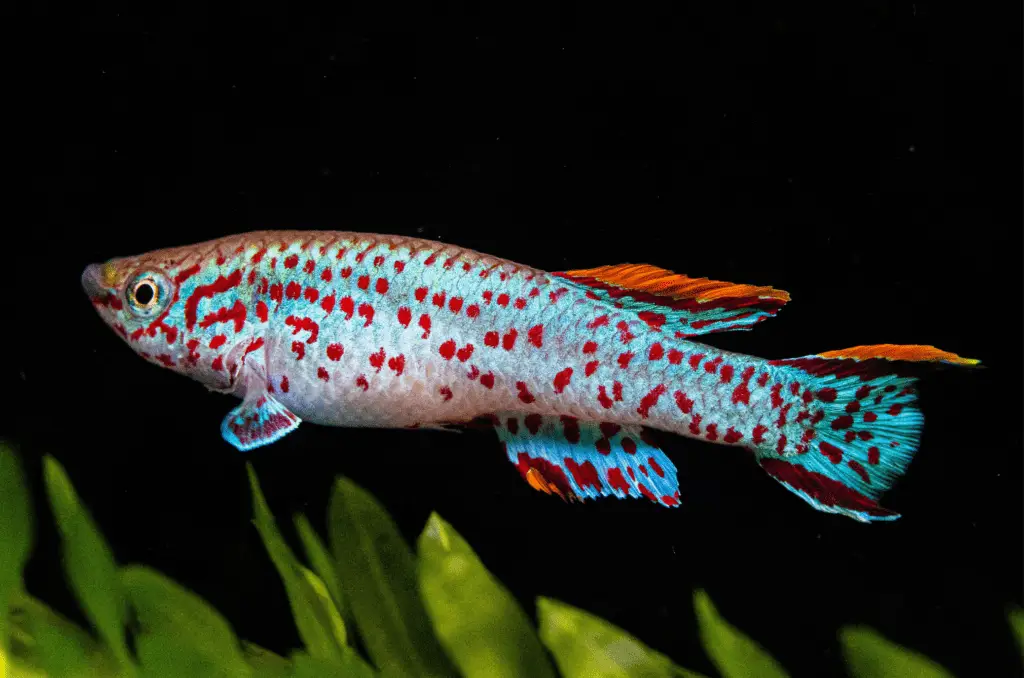 WHERE CAN YOU BUY KILLIFISH?
Killifish can be purchased from local fish stores, specialty online retailers, or through killifish enthusiasts and breeders.
WHAT IS THE MOST PEACEFUL KILLIFISH?
The Clown Killifish is known to be one of the most peaceful and non-aggressive killifish species, making them ideal for community tanks.
Which killifish are not too aggressive?
Other peaceful killifish species include:
Gardneri Killifish
Blue Gularis Killifish
Golden Wonder Killifish
These species are generally more docile and well-suited for community aquariums with similarly-sized or larger tankmates.
WHY DO KILLIFISH HAVE SQUARE TAILS?
The square tails of killifish, also known as "truncate" tails, are an adaptation that allows for better maneuverability and quick bursts of speed. This trait is beneficial for escaping predators and catching prey.
HOW TO MAKE YOUR CLOWN KILLIFISH MORE COLORFUL
To enhance the coloration of your Clown Killifish:
Provide a varied and high-quality diet, including live and frozen foods.
Maintain optimal water conditions, with a stable temperature and clean, well-filtered water.
Offer a natural environment with plants, hiding spots, and subdued lighting.
These factors will help your Clown Killifish display their most vibrant colors.
HOW MANY KILLIFISH CAN YOU KEEP TOGETHER?
The number of killifish you can keep together depends on the size of your aquarium and the specific species. As a general rule, provide at least 1-2 gallons of water per inch of fish. It's also essential to maintain a balanced male-to-female ratio to minimize aggression, typically aiming for a 1:2 or 1:3 male-to-female ratio.
WHERE DO KILLIFISH LIVE?
Killifish are native to various habitats worldwide, including North and South America, Africa, Asia, and parts of Europe. They can be found in diverse environments, such as ponds, streams, marshes, and even temporary pools created by rainfall.
Conclusion
Killifish are fascinating, colorful, and relatively low-maintenance pets for aquarists of all experience levels. With proper care, including a suitable tank, varied diet, and attention to breeding and water conditions, these vibrant fish can thrive and provide endless enjoyment for their keepers.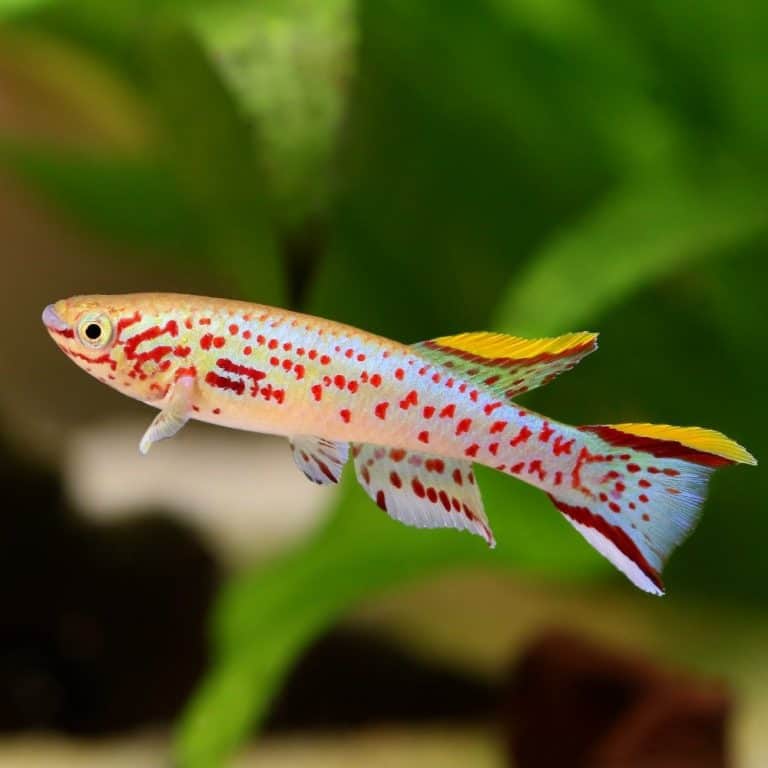 Frequently Asked Questions
1. Can killifish live with other fish?
Yes, killifish can live with other fish, particularly small, peaceful species such as tetras, rasboras, and small catfish. It's essential to research compatibility before adding any new species to your tank.
2. Do killifish need a filter?
Yes, killifish require a filter to maintain clean and healthy water conditions. A sponge filter or gentle hang-on-back filter is usually sufficient for small to medium-sized aquariums.
3. Do killifish need a heater?
Most killifish species prefer warmer water temperatures, so a heater is often necessary to maintain a stable environment. However, some species can tolerate room temperature conditions, so it's crucial to research the specific needs of the killifish you plan to keep.
4. Can killifish live in a planted tank?
Yes, killifish can live in a planted tank. In fact, live plants provide additional hiding spots, contribute to water quality, and mimic their natural environment, making them a beneficial addition to a killifish aquarium.
5. Are killifish aggressive?
Some killifish species can be territorial or aggressive, particularly towards their own kind or similarly-sized fish. However, many species, such as the Clown Killifish, are peaceful and suitable for community tanks. Researching the temperament of the specific species you plan to keep is essential.
6. Do killifish need a lid on their tank?
It's recommended to use a lid on a killifish tank, as they are known to be skilled jumpers. A tight-fitting lid with minimal gaps will help prevent any unfortunate escapes.
7. How often should I feed my killifish?
Killifish should be fed once or twice daily, offering enough food that can be consumed within a few minutes. A varied diet, including live, frozen, and high-quality flake or pellet foods, will help ensure their overall health and coloration.